Product Description
Humzor NEXZSCAN is the OBD2 scanner which is specially designed for car owner. With NEXZSCAN and your smart phone in hand , there is no more need to worry theCheck Engine Light on. You can master the check engine light easily .
Humzor NexzScan New Generation OBD2 Scanner
NEXZScan can be connected by Bluetooth to read or clear codes, check smog and work for O2 sensor and battery test.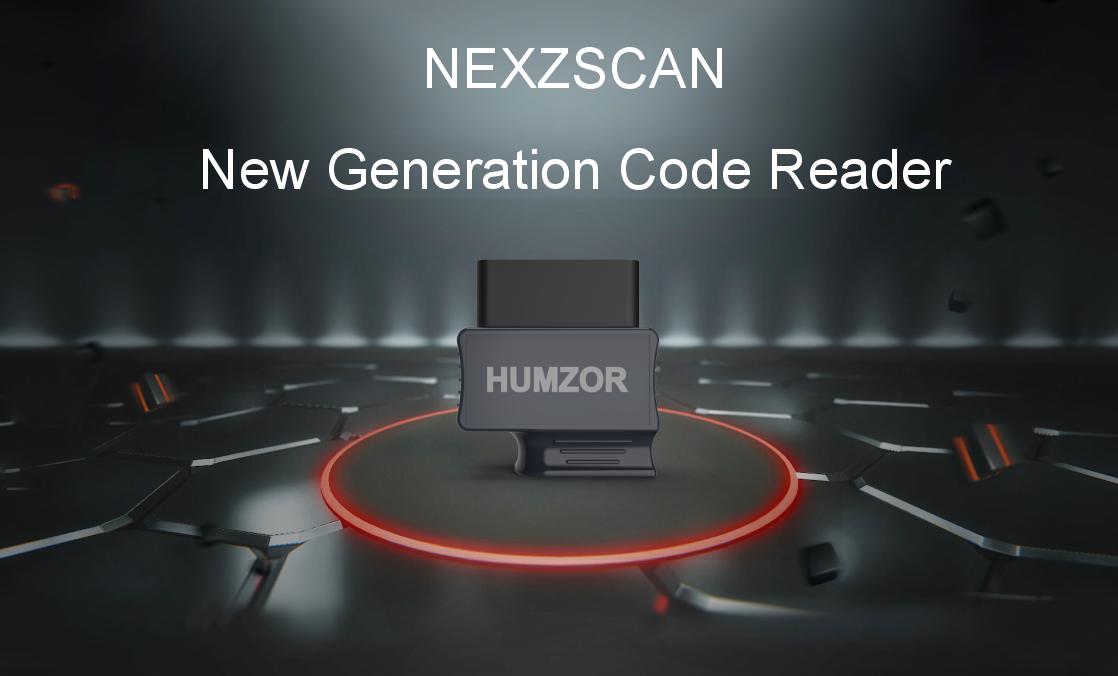 HUMZOR NEXZSCAN Code Reader Feature:
Lanaguge: English, Russian, French, Italian, Spanish, Polish, German,Simplified Chinese, Traditional Chinese,
Update: One-key update online
Connection: Bluetooth
O.S.: iOS & Android
~High Cost-effective Device: VCI+ Free APP (iOS & Android) via Bluetooth connection, taking place of handheld tools
~Wide Vehicle Coverage: Works on any gasoline car (Japan, Canada, US, EU, etc.) with standard OBD2 DLC after 2000, including 57 brands
~Complete OBD2 Diagnosis Modes: Read/clear codes, Live data, Freeze Frame, Mode 6, O2 Sensor, Smog Check, MIL Status, Battery Test, etc
~Multi ECU Code Reading: from7E8 to 7EF (including Engine, Transmission and other control modules), retrieves Stored Codes, Pending Codes and Permanent Codes
~Enhanced DTC Analysis: code definition, code description, code symptoms and possible causes listed clearly
~Powerful Database: including nearly 40,000 DTCs, supporting DTC query online
~Customized Live Data: digital, dashboard and graph display. Meanwhile, live data comparison is supported
~VIN Query Supported: Input the VIN or scan it directly to search the vehicle information
~Intelligent and Easy Operation: One-key Record/Feedback/ Update within App, get technique support online
~Free shipping, 90-day risk free return policy
NEXZSCAN OBDII Scan Tool Common Diagnostic Problems:
- Incomplete OBD2 diagnosis modes:
The functions of handheld code readers are limited, normally only contain the basic code reading, erasing, freeze frame, while many important ones are usually discarded.
- Unable to get diagnosis report in detail:
Most handheld devices only display DTC definition on the screen without giving a diagnosis report, the possible root causes of the trouble code which are more important are not listed.
- Single live data display without comparison graph:
Simple and unclear live data display on the small screen, you cannot choose to customize the preferred one. Besides, live data comparison is not supported by many handheld devices.
- Complicated update & print way through PC:
You can't get the upgrade reminder in time and need to prepare all the necessary tools USB or SD card to update successfully each time.
- Difficult to operate, no clear using guide:
It is difficult to use since you must press the button again and again with the content displayed on the small screen. And it occupies large space which usually need to be placed in the trunk.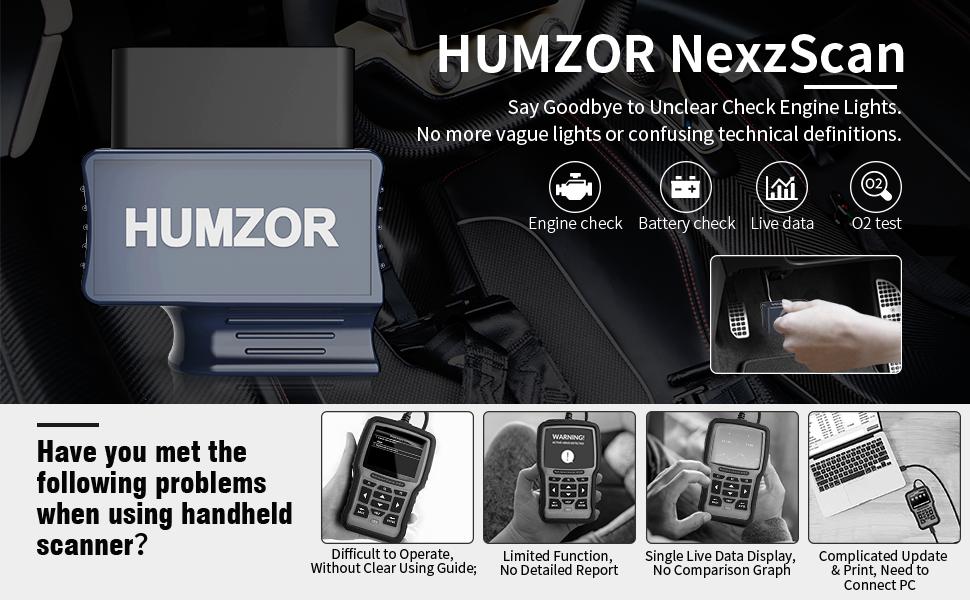 HUMZOR NEXZSCAN OBD2 Diagnostics:
- Complete OBD Diagnosis Modes: NexzScan powerfully supports all the diagnosis modes of OBDII test, O2 sensor, Smog Check, Mode 6, MIL Status, etc.
- Customized Live Data: Diversified live data display method, digital, dashboard and graph display, just choose the one you like. Meanwhile, you can merge multi parameters in one graph and see how they affect each other.
- Professional DTC Analysis: For the DTC, not only the code definition but possible causes are listed clearly by simple and easy-to-understand explanation instead of confusing terms.
- Battery Test: Clearly show you the battery voltage and status, with abnormal reminder.
- Powerful Database: Enhanced database contains nearly 40K kinds code description, greatly supports DTC Query online.
- One-Key Update in App: No PC, no USB, no SD card is needed. Click the upgrade information and update it into the latest version within the App in time.
- Android/ iOS System Available: Powerfully supports both iOS and Android systems, just providing you with flexible choice, now choose the one you prefer.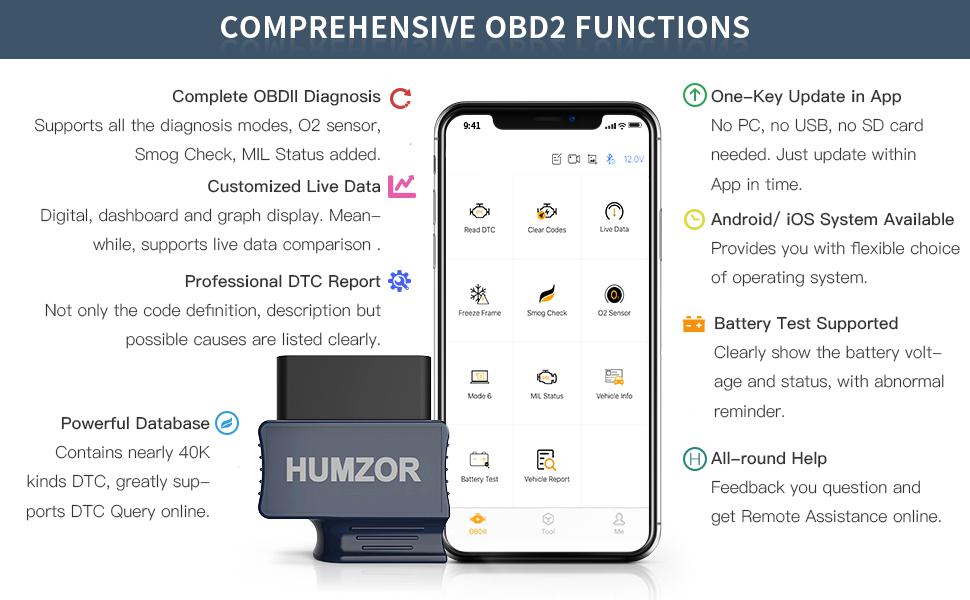 NexzScan Full Functions:
·Read and Clear Codes: Read and clear engine codes. Stored, Pending and Permanent for all makes
·Freeze Frame: Freeze Frame data is a snapshot of the vehicle when the Freeze Frame code was stored
·Mode 6: Advanced test results (like misfire counts) for on-board diagnostic system monitors.
·O2 Sensor: Check the vehicle O2 sensor values
·Battery Test: Show battery voltage and comment battery status
·Smog Check: Indicate whether or not the various emissions-related systems on the vehicle are operating properly and are ready for inspection and maintenance testing
·MIL Status: MIL is essentially an emission warning light. If the light comes on, it means the OBD II system has detected an emissions-related problem
·Live Data: DIY diversified PID display method (Graphic display, Dashboard display and Digital display). iOS supports 4 parameters comparison and Android supports 2
·Repair Reports: Generate a comprehensive report for the DTC, containing the definition, possible causes, saving you time and money
·Quick Scan: Quickly scan the vehicle and analyse vehicle status
·Vehicle Info: Check the make, years, VIN Code and other detail information of your vehicle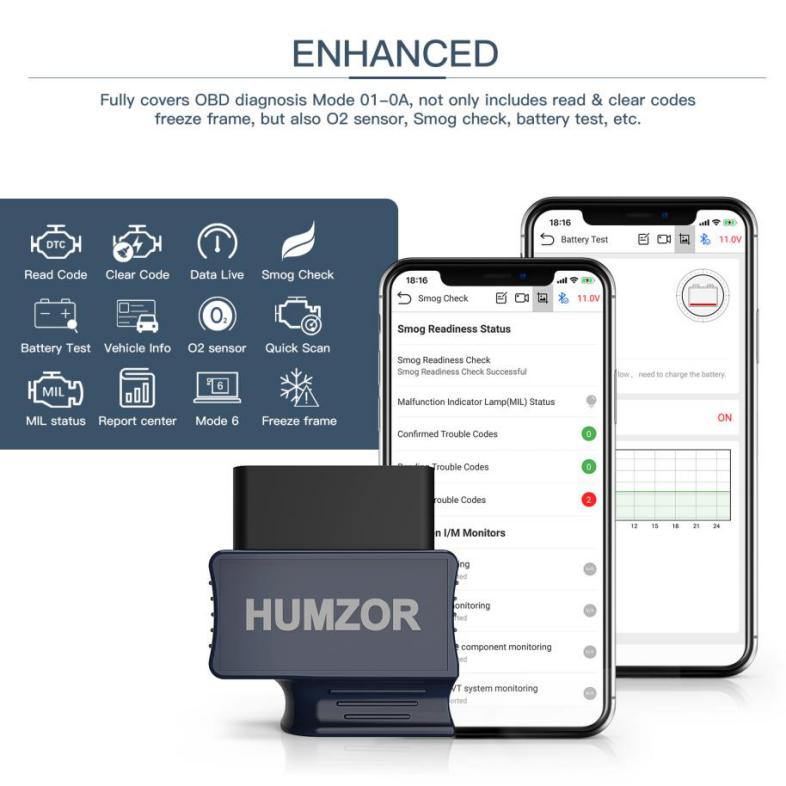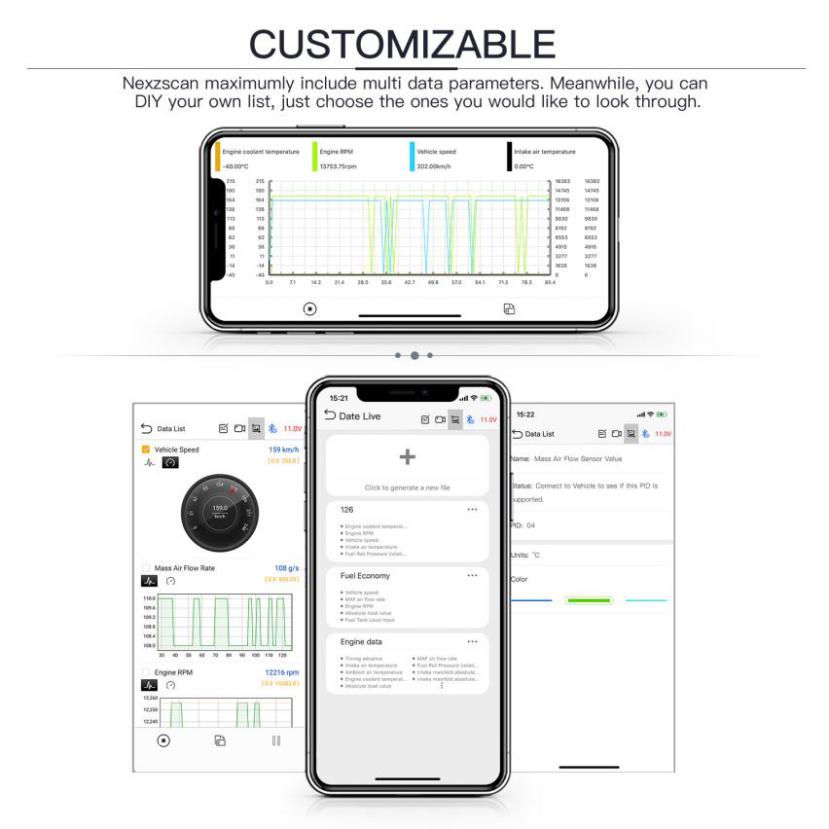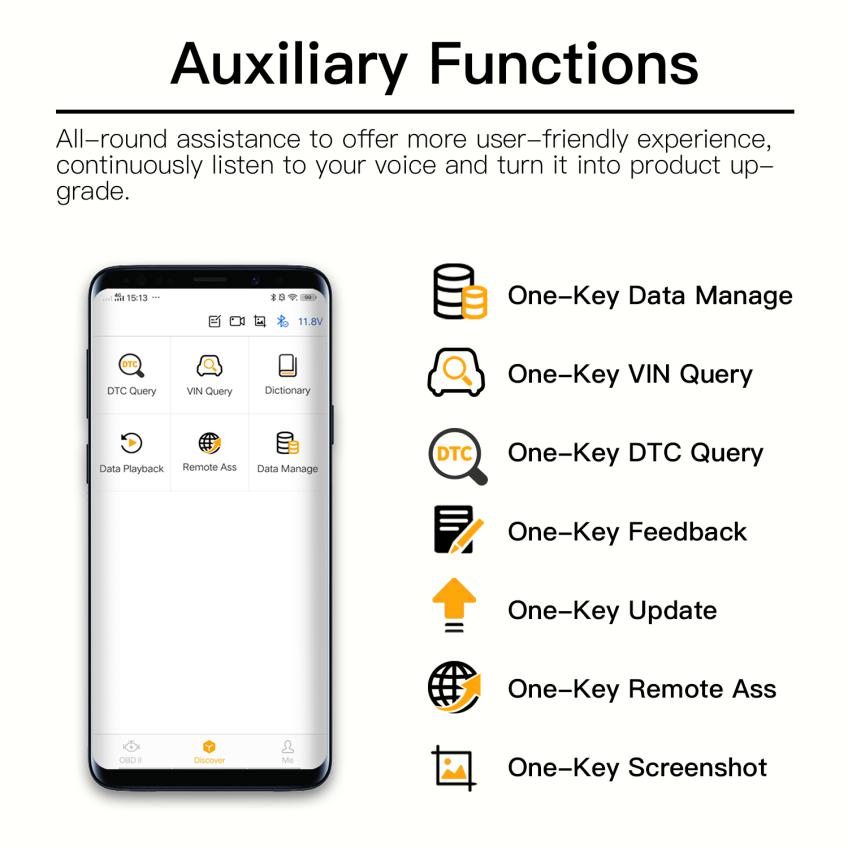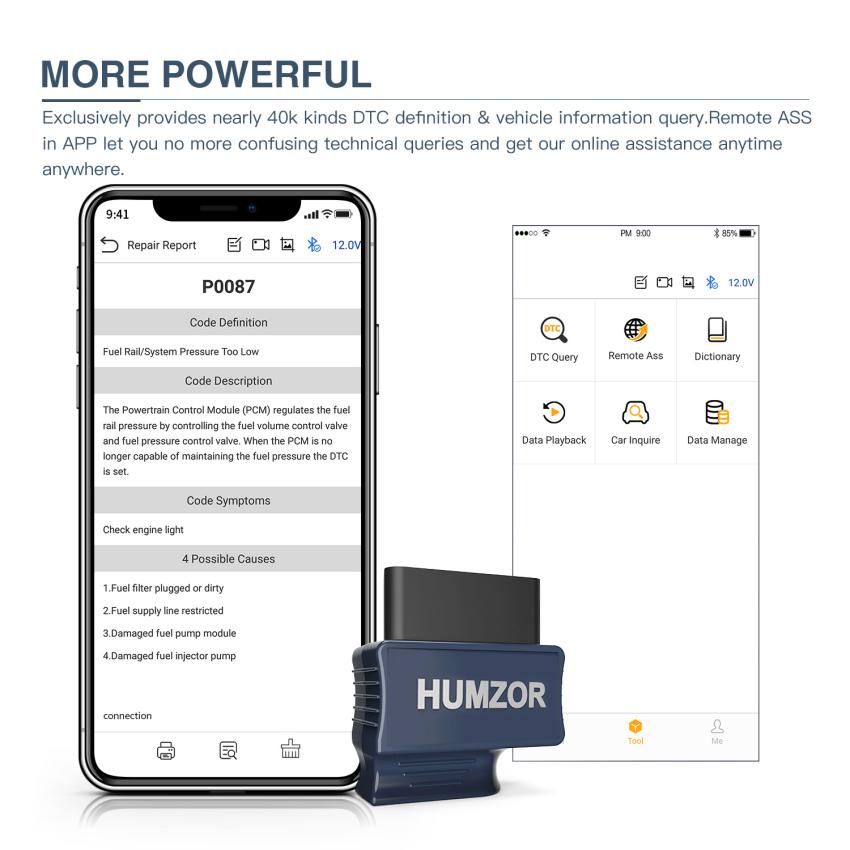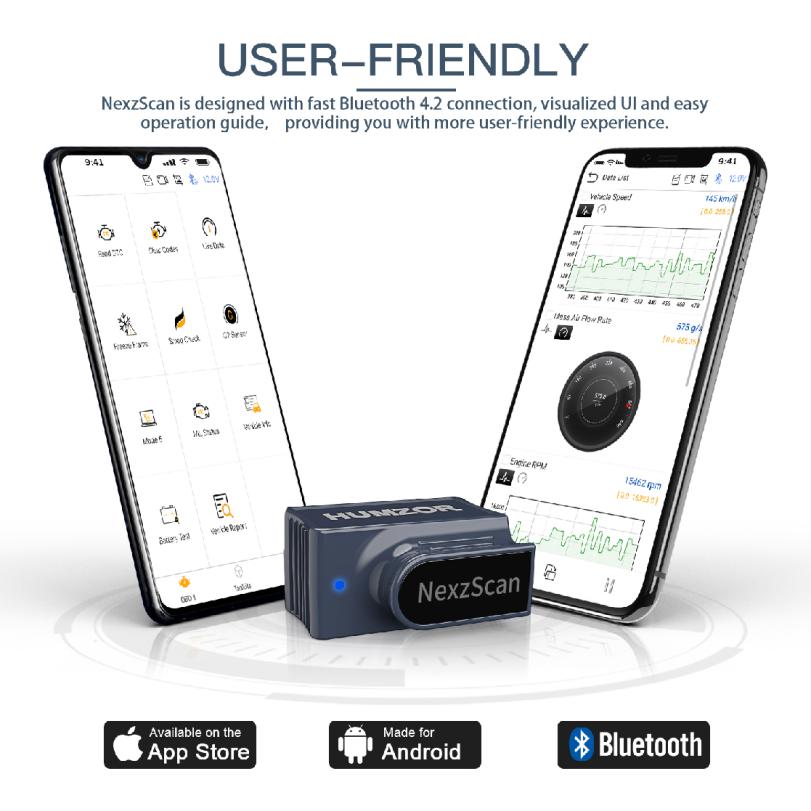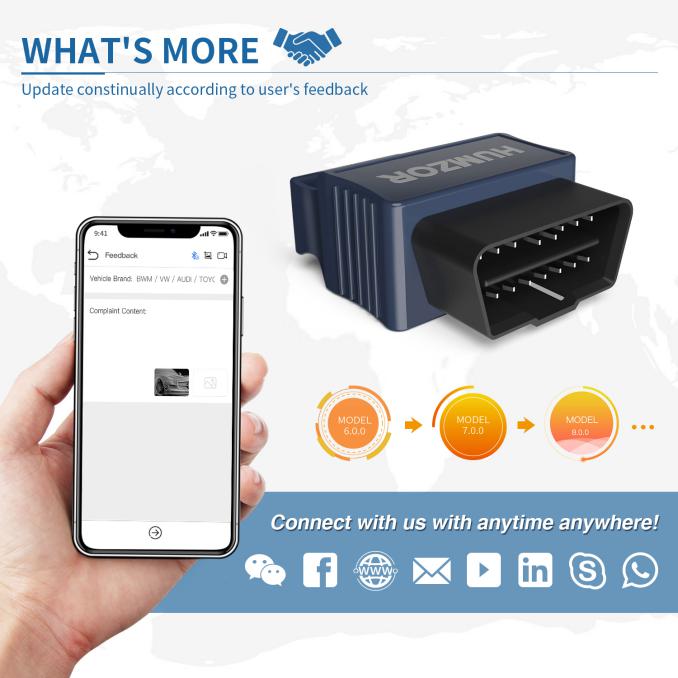 Package includes:
1pc x HUMZOR NEXZSCAN Code Reader
---
Shipment Option and Delivery Time In OBDiitool.co.uk

1. Shipment from Shenzhen/ Hongkong warehouse

1)DHL Shipping and Other Express Service:
Take About 5-7 working days
DHL will be the default delivery method
To help you clearance we will declare a lower price on the invoice to help clearance.
If address is remote area, you need pay remote freight 35 USD or we will ship by Normal Post or Yanwen/EMS/Aramex Express.
For some eu countries, there might be customs duty problem, if you have any special rquest on this, you can email to inform us your suggestions.
2)Yanwen Express:
Take About 7-10 working days,No Tax Problem
Usually No Tax for European Countries or Remote Area . The tax was pre-paid, when package reached, there's no tax no extra fee for customers.
Due to high custom tax in European Countries,Like Germany, Greece,Romania,Sweden,France,etc, we will use Yanwen express as first option, if you will need faster DHL shipment, please contact us ,thank you.
3)Normal Registered Airmail Post way
Take About 10-16 working days, Sometimes will be 20 days.
Registered Airmail Includes Netherlands Post, USPS Post, Singapore Post, Hongkong Post, etc
Order amount less than 150USD, and package weight less than 2KG will be sent by Registered airmail.
But if you feel it is really slow, and want us to send by DHL, you can choose "Premium Delivery" and pay for the extra shipping for express service. finally we will send it by DHL.
2. UK, EU Warehouse Shipping:
UK Customers Check: Ship from UK
EU Customers Check: Ship from Czech, it's ok to ship to all the EU countries.
Take About 3-7 working days, Free TAX, faster shipping with cheaper price.
If US/UK Stock was sold out, your order will be shipped from China via DHL or YANWEN(No Tax).
Because of the UK Brexit and Pandemic, UK warehouse can't ship to other EU countries at present.
EU Warehouse was located in Germany/Czech and it only can ship to EU country:
Germany, France, Spain, Netherlands, Finland, Sweden, Austria, Belgium, Bulgaria, Croatia,
Czech Republic, Denmark, Estonia, Greece, Hungary, Ireland, Latvia, Lithuania,Luxembourg,
Malta, Poland, Portugal, Republic of Cyprus, Romania, Slovakia, Slovenia,5-7 DaysRoyal Mail/ DHL
After-sale service:
We can offer you lifetime customer service and tech support.
If you have any problems, please provide error image or video to show the problem, and kindly describe it in detail;
Technician will try their best to help you solve the problem. If there are no solutions, you can return for a refund or get a new one for replacement.
For any question, please contact us at:
Whatsapp:+86 18054815707
Email: Sales@OBDIItool.co.uk
Skype: Sales@OBDIItool.co.uk
Hot line: +86 18054815707
Accepting bulk purchases, We can Offer you wholesale price
We are the agent for many original brand such as Autel, Xhorse, OBDstar, VXdiag, XTOOL,Launch,CGDI, Yanhua ect.
OBDiitool.co.uk OBDII tool online supplier
Accepting bulk purchases, We can Offer you wholesale price.
OBDiitool.co.uk is a OBDII tool online supplier providing best-quality ECU chip uning tools, car diagnostic tools, OBDII Code scanners, car key programmers, heavy duty scanners, locksmith tools etc.
Besides, we are the agent for many original brand such as Autel, Xhorse, OBDstar, VXdiag, XTOOL,Launch,CGDI, Yanhua ect.