Product Description
Over 10000+ Vehicle Models & One-Click Wifi Lifetime Free Update
Auto read vin + Battery Voltage Test + health report record playback and print
2021 Newest Version OBD2 Scanner, Upgraded Version of Creader VII+
Four Systems Diagnostic, Full OBDII Functions, 10+ Languages Supported
Launch X431 CRP123X Creader Professional Scanner
LAUNCH CRP123X has all the basic features a technician needs to diagnose check engine lights on most 1996 and newer OBD2 vehicles.
Features like engine/transmission/ABS/SRS diagnostics, sutoVIN, wi-fi updates,
and on-screen definitions make the CRP123X a powerful yet affordable automotive diagnostic scan tool.
1. 5'inch android touch screen, easy to operate.
2. CRP123X is an upgraded version of CRP123 and creader VII+ , support more cars.
3. Fast VINautodetect, CRP123X will read VIN information when you connect car.
4. Lifetime free update , support one-click update via wifi.
5. Automatically generate and upload diagnostic reports.
6. Support multi-protocols : OBDII , EOBD, JOBD , KOBD
7. Support multi-language :English, Spanish, French, German, Italian, Russian, Japanese, Korean, Portuguese.
Specific System Diagnostics:
CRP123X is an enhanced diagnostic tool that aims at providing users with a broad array of solutions for critical tasks.
It supports accessing engine, transmission, ABS and SRS performing diagnostics like reading/clearing codes and viewing live data,
helping you quickly identify the issues and turn off the warning lights.
Specifico Sistema di Diagnostica:
LAUNCH CRP123X is extremely helpful for technician to diagnose the emission-related problems accurately and efficiently via 10 OBD2 test modes:
1.Read and clear DTCs: Show the detailed description of the diagnostic trouble code (DTC) and clear/reset the diagnostic information.
2.Read I/M readiness status: Show whether the various emissions-related systems on the vehicle are operating properly and are ready for inspection and maintenance testing.
3.Read live data Stream: Show the information of continuous data stream from vehicle in live graphic (waveform) display.
4.Read Freeze Frame Data: Check the certain vehicle conditions which are recorded by the on-board computer at the time the emission-related fault occurs.
5.O2 Sensor Test: Show the last results of O2 sensor test in graphic display for troubleshooting.
6.On-Board monitor test: Read the results of on-board diagnostic monitoring tests for specific components/systems.
7.Read vehicle Information: Display the information such as VIN (vehicle identification number), CID (calibration ID) and CVN (calibration verification number), etc.
Add-on Features:
Easy-to-use body design: The diagnostic tool is equipped with a 5-inch touch screen combined with operating buttons for easy operating.
You can both operate it with the buttons or with your fingertips.
Useful autoVIN technology:To shorten the diagnostic time and help you solve the problem accurately,
the CRP123X is built with the autoVIN technology that can quickly scan the vehicle identification number.
Wi-Fi Updates: The diagnostic tool is suitable for most 1996 and newer OBD2-compliant vehicles,
and the diagnosable vehicle coverage will be extended via updates.
Since this is an android-based scan tool, you can update the software directly via wi-fi with one click.
Inspection Report:After completing a diagnosis, the scan tool will produce a record of the test,
including the customer information, vehicle information and the diagnostic result, for users to review or print out.
Multiple Languages:
English, Spanish, French, German, Italian, Russian, Portuguese, Japanese, Korean
Extensive Vehicle Coverage:
Asia:
Acura, Daewoo, Honda, Hyundai, Infiniti, Isuzu, Kia, Lexus, Mazda, Mitsubishi, Nissan, Nissan GT-R, Samsung, Subaru, Suzuki, Toyota, Tlisuzu
Europe:
Abarth, Alfa Romeo, Audi, BMW, Bugatti, Dacia, Eu Ford, Fiat, Jaguar, Lancia, Mercedes, Mini, Opel, Peugeot, Porsche, Renault, Saab, Seat, Skoda, Smart, Sprinter, Landrover, Citroen, Volvo, VW, Vauxhall
South America:
GMSA
USA:
Buick, Cadillac, Chevrolet, Dodge, Ford, GM, Chrysler, Jeep, Lincoln
Australia:
Au Ford, Holden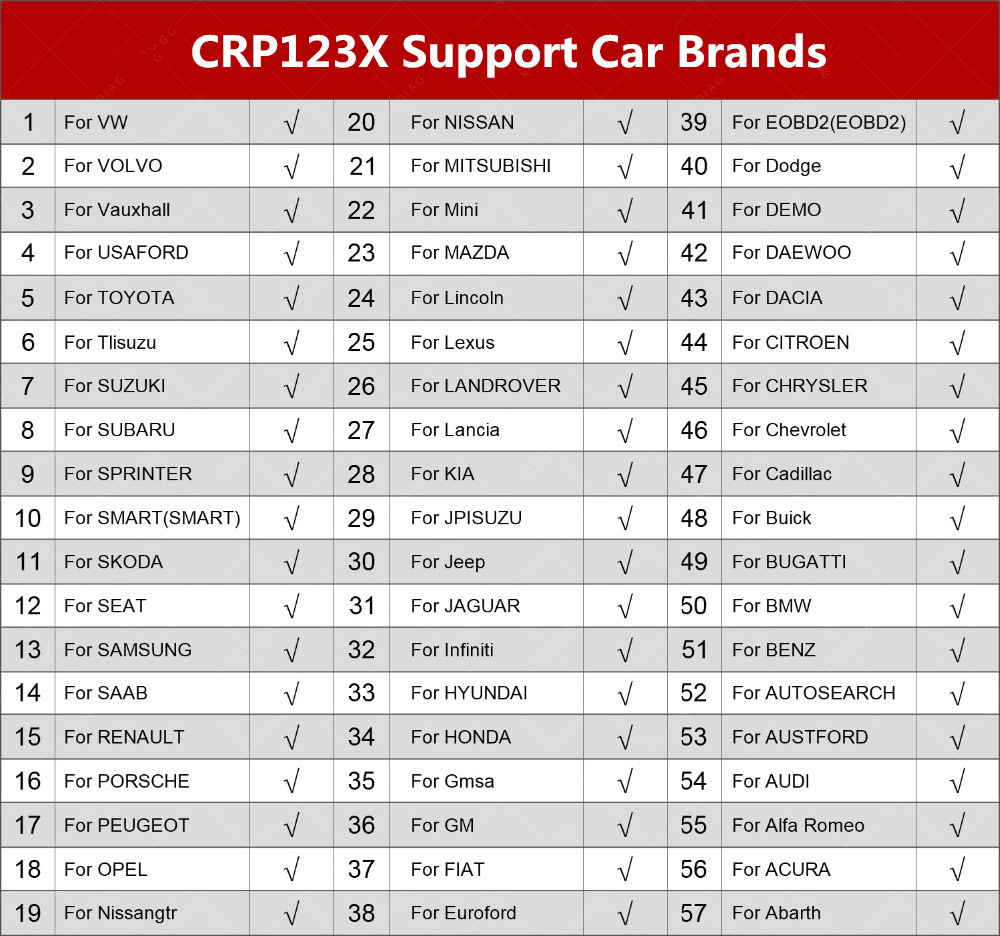 Specify:
LCD: 5 "of the touch screen, 720 P
OBDITIONS Input voltage interface: 9 V -18 V
DC input voltage: 5 V
Battery: lithium battery
Storage temperature:-20 -8451; ~ 70 -8451;
Operating temperature:-10 -8451; ~ 50 -8451;
Format: 8.98 *4.92 *1.36 thumbs
Net weight: <565g
Package includes:
1pc x LAUNCH CRP123X OBD2 Scanner Professionale Automotive Lettore di Codice
---
Shipment Option and Delivery Time In OBDiitool.co.uk

1. Shipment from Shenzhen/ Hongkong warehouse

1)DHL Shipping and Other Express Service:
Take About 5-7 working days
DHL will be the default delivery method
To help you clearance we will declare a lower price on the invoice to help clearance.
If address is remote area, you need pay remote freight 35 USD or we will ship by Normal Post or Yanwen/EMS/Aramex Express.
For some eu countries, there might be customs duty problem, if you have any special rquest on this, you can email to inform us your suggestions.
2)Yanwen Express:
Take About 7-10 working days,No Tax Problem
Usually No Tax for European Countries or Remote Area . The tax was pre-paid, when package reached, there's no tax no extra fee for customers.
Due to high custom tax in European Countries,Like Germany, Greece,Romania,Sweden,France,etc, we will use Yanwen express as first option, if you will need faster DHL shipment, please contact us ,thank you.
3)Normal Registered Airmail Post way
Take About 10-16 working days, Sometimes will be 20 days.
Registered Airmail Includes Netherlands Post, USPS Post, Singapore Post, Hongkong Post, etc
Order amount less than 150USD, and package weight less than 2KG will be sent by Registered airmail.
But if you feel it is really slow, and want us to send by DHL, you can choose "Premium Delivery" and pay for the extra shipping for express service. finally we will send it by DHL.
2. UK, EU Warehouse Shipping:
UK Customers Check: Ship from UK
EU Customers Check: Ship from Czech, it's ok to ship to all the EU countries.
Take About 3-7 working days, Free TAX, faster shipping with cheaper price.
If US/UK Stock was sold out, your order will be shipped from China via DHL or YANWEN(No Tax).
Because of the UK Brexit and Pandemic, UK warehouse can't ship to other EU countries at present.
EU Warehouse was located in Germany/Czech and it only can ship to EU country:
Germany, France, Spain, Netherlands, Finland, Sweden, Austria, Belgium, Bulgaria, Croatia,
Czech Republic, Denmark, Estonia, Greece, Hungary, Ireland, Latvia, Lithuania,Luxembourg,
Malta, Poland, Portugal, Republic of Cyprus, Romania, Slovakia, Slovenia,5-7 DaysRoyal Mail/ DHL
After-sale service:
We can offer you lifetime customer service and tech support.
If you have any problems, please provide error image or video to show the problem, and kindly describe it in detail;
Technician will try their best to help you solve the problem. If there are no solutions, you can return for a refund or get a new one for replacement.
For any question, please contact us at:
Whatsapp:+86 18054815707
Email: Sales@OBDIItool.co.uk
Skype: Sales@OBDIItool.co.uk
Hot line: +86 18054815707
Accepting bulk purchases, We can Offer you wholesale price
We are the agent for many original brand such as Autel, Xhorse, OBDstar, VXdiag, XTOOL,Launch,CGDI, Yanhua ect.
OBDiitool.co.uk OBDII tool online supplier
Accepting bulk purchases, We can Offer you wholesale price.
OBDiitool.co.uk is a OBDII tool online supplier providing best-quality ECU chip uning tools, car diagnostic tools, OBDII Code scanners, car key programmers, heavy duty scanners, locksmith tools etc.
Besides, we are the agent for many original brand such as Autel, Xhorse, OBDstar, VXdiag, XTOOL,Launch,CGDI, Yanhua ect.