Product Description
OBDSTAR Key RT is a key renewing device,Support a variety of car key chip renewing that can be repeated to renew ssuch as: PCF7341, PCF7345, PCF7941, PCF7945, PCF7952, PCF7953, PCF7961, connects through USB 2.0/3.0.
Original OBDSTAR Key RT Key Renew Tool
Key RT box connects to a computer Use USB2.0/3.0
OBDSTAR Key RT Renew Supported Car List
Support Windows7 and above operating systems
Supports Chip PCF7341/7345, PCF7941/7945/7952/7953/7961
Support a variety of car key chip renewing that can be repeated to renew
Note:
It's factory clearance sales, no return and refund.

Please download the software from https://www.obdprog.com/html/Download.html

If there is qulity issue, you can send it back for repairment, but it cannot be returned for a refund.
OBDSTAR Key RT Key Renew Tool Features:
PC software, renewing box, chip wiring board and We original k001 wiring.
If the original key is renewed, the Key RT box and they are connected via W001 wiring;
If there is no original key, the chip small board can be used to solder the chip and connect to the key RT box to renew.
The specific connection method is shown in figure:
Chip Select:
1) The key renewing window controls include:
supporting model catalog, key appearance and wiring mode picture window.
2) The supported chip types are PCF7341, PCF7345, PCF7941, PCF7945, PCF7952, PCF7953, and PCF7961.
3) Click on the model catalog to see the specific chip type, key appearance and wiring mode;
supporting welding and fixture connection method.
Key Renewing:
1)Select chip type as shown in figure:(Take Alfa Romeo PCF794)
after selecting the vehicle model and chip type,
the right side will display the appearance of the key to be renewed, and select the connection method to view the specific connection method.
The welding method is shown in Figure: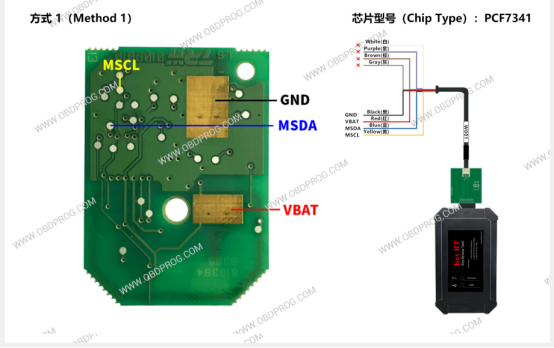 The fixture method is shown in Figure:
2) Execute renewing: Click the Reset button to execute the renewing
The renewing is successful as shown in Figure:
Package includes:
1pc x Key RT Key Renew Tool
---
Shipment Option and Delivery Time In OBDiitool.co.uk

1. Shipment from Shenzhen/ Hongkong warehouse

1)DHL Shipping and Other Express Service:
Take About 5-7 working days
DHL will be the default delivery method
To help you clearance we will declare a lower price on the invoice to help clearance.
If address is remote area, you need pay remote freight 35 USD or we will ship by Normal Post or Yanwen/EMS/Aramex Express.
For some eu countries, there might be customs duty problem, if you have any special rquest on this, you can email to inform us your suggestions.
2)Yanwen Express:
Take About 7-10 working days,No Tax Problem
Usually No Tax for European Countries or Remote Area . The tax was pre-paid, when package reached, there's no tax no extra fee for customers.
Due to high custom tax in European Countries,Like Germany, Greece,Romania,Sweden,France,etc, we will use Yanwen express as first option, if you will need faster DHL shipment, please contact us ,thank you.
3)Normal Registered Airmail Post way
Take About 10-16 working days, Sometimes will be 20 days.
Registered Airmail Includes Netherlands Post, USPS Post, Singapore Post, Hongkong Post, etc
Order amount less than 150USD, and package weight less than 2KG will be sent by Registered airmail.
But if you feel it is really slow, and want us to send by DHL, you can choose "Premium Delivery" and pay for the extra shipping for express service. finally we will send it by DHL.
2. UK, EU Warehouse Shipping:
UK Customers Check: Ship from UK
EU Customers Check: Ship from Czech, it's ok to ship to all the EU countries.
Take About 3-7 working days, Free TAX, faster shipping with cheaper price.
If US/UK Stock was sold out, your order will be shipped from China via DHL or YANWEN(No Tax).
Because of the UK Brexit and Pandemic, UK warehouse can't ship to other EU countries at present.
After-sale service:
We can offer you lifetime customer service and tech support.
If you have any problems, please provide error image or video to show the problem, and kindly describe it in detail;
Technician will try their best to help you solve the problem. If there are no solutions, you can return for a refund or get a new one for replacement.
For any question, please contact us at:
Tech support
OBDSTAR Key RT Key Renew Tool Supported Car List
Supported chips list

OBDSTAR Key RT Key Renew Tool Supported Car List
Alfa Romeo
V1 (PCF7341)
V2 (PCF7941)
Audi
V1 (PCF7945AC0902)
V2 (PCF7945AC0911)
V3 (PCF7945AC2319)
V4 (PCF7945AC0902) KeylessGo
V5 (PCF7945AC1415) KeylessGo
V6 (PCF7945AC1500) KeylessGo
V7 (PCF7945AC1411) KeylessGo
V8 (PCF7945ATJ807) KeylessGo
BMW
E-Series
Remeo (PCF7945)
KeylessGo (PCF7952)
KeylessGo (PCF7953)
F-Series
Hella
V3 433MHz 5FA 011 926-09(PCF7953VC1900)
V6 433MHz 5FA 011 226-19(PCF7953VC1900)
V7 433MHZ 5FA 011 920-15(PCF7953VC1900)
V9 433MHZ Korea(PCF7953VC1900)
HUF
V1 433MHz HUF5663(PCF7953PC1800)
V2 433MHz HUF5661(PCF7953PC1800)
V5 433MHz HUF5767(PCF7953PC1800)
V8 433MHz HUFxxxx(PCF7953PC1800)
V10 315MHz HUF5662(PCF7953PC1800)
Siemens
V4 315Mhz 5WK49663(PCF7953PC1100)
V11 315MHz 5WK49661(PCF7953PC1100)
China E-Series
V1 (PCF7952)
V2 (PCF7952)
V3 (PCF7941)
V4 (PCF7961)
V5 KeylessGo(PCF7952)
China Specific
V1 433MHz(PCF7952)(BeiJing)
V2 315MHz(PCF7961)(ShangHai Buick)
V3 433MHz(PCF7952)
V4 433MHz(PCF7952)(Wagon)
V5 433MHz(PCF7952)(Trumpchi)
Cadillac
V1 315MHz (PCF7952)
Chevrolet
V1 433MHz (PCF7952)
Chrysler/Dodge
Blade
V1 (PCF7941)
Fobic
V1 (PCF7941)
V2 (PCF7941)
V3 (PCF7941)
V4 (PCF7941)
V5 (PCF7941)
V6 (PCF7941)
V7 (PCF7941)
V8 (PCF7941)
V9 (PCF7941)
V10 (PCF7941)
V11 (PCF7941)
V12 (PCF7941)
Citroen
V1 (PCF7941)
V2 (PCF7945)
V3 (PCF7341)
V4 (PCF7953)
V5 (PCF7961)
Dicia
V1 (PCF7961)
Fiat
V1 (PCF7961)
V2 (PCF7941)
V3 (PCF7941)
Ford
V1 (PCF7345)
V2 (PCF7353)
Geely
V1 (PCF7952)
Haval
V1 (PCF7952)
Honda
V1 (PCF7961)
V2 (PCF7945)
Hyundai
V1 (PCF7953)
V2 (PCF7953)
V3 KeylessGo(PCF7953)
V4 (PCF7952)
V5 (PCF7952)
V6 (PCF7952)
Jaguar
V1 433MHz(PCF7953)
V2 433MHz(PCF7945)
Jeep
V1 (PCF7953)
V2 (PCF7953)
V3 (PCF7953)
V4 (PCF7953)
Kia
V1 (PCF7952)
V2 (PCF7953)
Lada
V1 (PCF7961)
V2 (PCF7941)
V3 (PCF7941)
V4 (PCF7961)
Land Rover
V1 433MHz (PCF7953)
V2 (PCF7941) Vogue
V3 (PCF7945) Freelander
V4 (PCF7941) Discovery.Sport
V5 315MHz (PCF7953)
V6 433MHz (PCF7953)
Lincoln
V1 315MHz (PCF7952)
Maserati
V1 433MHz(PCF7953)
Mini
433MHz (PCF7953 38pin)
868MHz (PCF7945)
315MHz (PCF7945)
Mitsubishi
V1 (PCF7952)
V2 (PCF7941)
V3 (PCF7941)
Nissan
V1 (PCF7952)
V2 (PCF7952)
V3 (PCF7961)
V4 (PCF7953)
V5 (PCF7961)
V6 (PCF7953)
V7 (PCF7961)
V8 (PCF7953) Japan
V9 (PCF7953)
V10 (PCF7952)
V11 (PCF7953)
V12 (PCF7952)
Opel
V1 (PCF7341)
V2 (PCF7341)
V3 (PCF7941)
V4 (PCF7941)
V5 (PCF7341)
V6 (PCF7941)
V7 (PCF7941)
V8 (PCF7341)
V9 (PCF7941)
V10 (PCF7961)
V11 (PCF7341)
V12 (PCF7341)
Peugeot
V1 (PCF7961)
V2 (PCF7945)
V3 (PCF7341)
V4 (PCF7341)
V5 (PCF7341)
V6 (PCF7341)
V7 (PCF7941)
V8 (PCF7341)
V9 (PCF7341)
Porsche
V1 KeylessGo 315MHz (PCF7953PC1200)
V2 Remote 315MHz (PCF7953PC1800)
V3 KeylessGo 433MHz (PCF7953PC1800)
Renault
Card
V1 (PCF7952)
V2 (PCF7941)
V3 (PCF7945)
V4 (PCF7953)
V5 (PCF7952)
V6 (PCF7941)
V7 (PCF7953)
Flip
V1 (PCF7961)
V2 (PCF7961)
V3 (PCF7961)
V4 (PCF7961)
Rolls Royce
V1 (PCF7953)
Smart
V1 (PCF7941)
V2 (PCF7961)
Suzuki
V1 (PCF7961)
Toyota
V1 (PCF7953AC1500)
Volvo
V1 (PCF7945)
V2 868MHz KeylessGo (PCF7945)
VW
V1 (PCF7945AC1411)
Supported chips list
Alfa Romeo
V1 (PCF7341)
V2 (PCF7941)
Audi
V1 (PCF7945AC0902)
V2 (PCF7945AC0911)
V3 (PCF7945AC2319)
V4 (PCF7945AC0902) KeylessGo
V5 (PCF7945AC1415) KeylessGo
V6 (PCF7945AC1500) KeylessGo
V7 (PCF7945AC1411) KeylessGo
V8 (PCF7945ATJ807) KeylessGo
BMW
E-Series
Remeo (PCF7945)
KeylessGo (PCF7952)
KeylessGo (PCF7953)
F-Series
Hella
V3 433MHz 5FA 011 926-09(PCF7953VC1900)
V6 433MHz 5FA 011 226-19(PCF7953VC1900)
V7 433MHZ 5FA 011 920-15(PCF7953VC1900)
V9 433MHZ Korea(PCF7953VC1900)
HUF
V1 433MHz HUF5663(PCF7953PC1800)
V2 433MHz HUF5661(PCF7953PC1800)
V5 433MHz HUF5767(PCF7953PC1800)
V8 433MHz HUFxxxx(PCF7953PC1800)
V10 315MHz HUF5662(PCF7953PC1800)
Siemens
V4 315Mhz 5WK49663(PCF7953PC1100)
V11 315MHz 5WK49661(PCF7953PC1100)
China E-Series
V1 (PCF7952)
V2 (PCF7952)
V3 (PCF7941)
V4 (PCF7961)
V5 KeylessGo(PCF7952)
China Specific
V1 433MHz(PCF7952)(BeiJing)
V2 315MHz(PCF7961)(ShangHai Buick)
V3 433MHz(PCF7952)
V4 433MHz(PCF7952)(Wagon)
V5 433MHz(PCF7952)(Trumpchi)
Cadillac
V1 315MHz (PCF7952)
Chevrolet
V1 433MHz (PCF7952)
Chrysler/Dodge
Blade
V1 (PCF7941)
Fobic
V1 (PCF7941)
V2 (PCF7941)
V3 (PCF7941)
V4 (PCF7941)
V5 (PCF7941)
V6 (PCF7941)
V7 (PCF7941)
V8 (PCF7941)
V9 (PCF7941)
V10 (PCF7941)
V11 (PCF7941)
V12 (PCF7941)
Citroen
V1 (PCF7941)
V2 (PCF7945)
V3 (PCF7341)
V4 (PCF7953)
V5 (PCF7961)
Dicia
V1 (PCF7961)
Fiat
V1 (PCF7961)
V2 (PCF7941)
V3 (PCF7941)
Ford
V1 (PCF7345)
V2 (PCF7353)
Geely
V1 (PCF7952)
Haval
V1 (PCF7952)
Honda
V1 (PCF7961)
V2 (PCF7945)
Hyundai
V1 (PCF7953)
V2 (PCF7953)
V3 KeylessGo(PCF7953)
V4 (PCF7952)
V5 (PCF7952)
V6 (PCF7952)
Jaguar
V1 433MHz(PCF7953)
V2 433MHz(PCF7945)
Jeep
V1 (PCF7953)
V2 (PCF7953)
V3 (PCF7953)
V4 (PCF7953)
Kia
V1 (PCF7952)
V2 (PCF7953)
Lada
V1 (PCF7961)
V2 (PCF7941)
V3 (PCF7941)
V4 (PCF7961)
Land Rover
V1 433MHz (PCF7953)
V2 (PCF7941) Vogue
V3 (PCF7945) Freelander
V4 (PCF7941) Discovery.Sport
V5 315MHz (PCF7953)
V6 433MHz (PCF7953)
Lincoln
V1 315MHz (PCF7952)
Maserati
V1 433MHz(PCF7953)
Mini
433MHz (PCF7953 38pin)
868MHz (PCF7945)
315MHz (PCF7945)
Mitsubishi
V1 (PCF7952)
V2 (PCF7941)
V3 (PCF7941)
Nissan
V1 (PCF7952)
V2 (PCF7952)
V3 (PCF7961)
V4 (PCF7953)
V5 (PCF7961)
V6 (PCF7953)
V7 (PCF7961)
V8 (PCF7953) Japan
V9 (PCF7953)
V10 (PCF7952)
V11 (PCF7953)
V12 (PCF7952)
Opel
V1 (PCF7341)
V2 (PCF7341)
V3 (PCF7941)
V4 (PCF7941)
V5 (PCF7341)
V6 (PCF7941)
V7 (PCF7941)
V8 (PCF7341)
V9 (PCF7941)
V10 (PCF7961)
V11 (PCF7341)
V12 (PCF7341)
Peugeot
V1 (PCF7961)
V2 (PCF7945)
V3 (PCF7341)
V4 (PCF7341)
V5 (PCF7341)
V6 (PCF7341)
V7 (PCF7941)
V8 (PCF7341)
V9 (PCF7341)
Porsche
V1 KeylessGo 315MHz (PCF7953PC1200)
V2 Remote 315MHz (PCF7953PC1800)
V3 KeylessGo 433MHz (PCF7953PC1800)
Renault
Card
V1 (PCF7952)
V2 (PCF7941)
V3 (PCF7945)
V4 (PCF7953)
V5 (PCF7952)
V6 (PCF7941)
V7 (PCF7953)
Flip
V1 (PCF7961)
V2 (PCF7961)
V3 (PCF7961)
V4 (PCF7961)
Rolls Royce
V1 (PCF7953)
Smart
V1 (PCF7941)
V2 (PCF7961)
Suzuki
V1 (PCF7961)
Toyota
V1 (PCF7953AC1500)
Volvo
V1 (PCF7945)
V2 868MHz KeylessGo (PCF7945)
VW
V1 (PCF7945AC1411)