Product Description
Godiag GT100+ GT100 Pro adds CANBUS protocol communication and Electronic Current Display comparing the GT100, Supports OBDII 16PIN protocol communication detection and ECU maintenance, diagnosis, programming, coding
GODIAG GT100+ GT100 Pro OBDII Breakout Box ECU Bench Connector with Electronic Current Display
Ship From US/EU/UK, fast delivery, Free tax !
GODIAG GT100+ Highlights
1 year warranty.
Used with KESS V2 and Ktag
Adds Electronic Current Display and CANBUS Protocol
ECU connection + OBDII Protocol Detector + Electronic Current Display
The cable can be extended, with an Optional dedicated adapter
Compatible with tools from LAUNCH, AUTEL, FOXWELL, XHORSE, VXDIAG, CGDI.....
Convert OBD1 diagnostic interface to the standard OBD2 diagnostic interface
Supports OBDII 16PIN protocol communication detection and ECU maintenance, diagnosis, programming, coding
Used with BMW-CAS4 Adapter test platform to detect whether the CAS4 key programming works perfectly or not
GT100+ Pro vs. GT100
GT100+ adds Electronic Current Display.
GT100+ Adds CANBUS Protocol Communication
Reset instrument/immobilizer when all keys lost
GODIAG GT100+ is a latest testing platform for OBDII protocol communication detection and ECU maintenance / diagnosis / programming / coding And after all the keys are lost, the instrument and the anti-theft system are forced to activate by short-circuiting.
GT100+ has a voltage and current display. It is convenient for maintenance engineers to judge the current working status of ECU.
It can convert the car OBD2 interface into 16 pin for signal detection and electrical level conversion. Able to connect the single modules or multiple modules of the vehicle. It can be connected with any diagnostic tool to tell whether the car communication is good or not. It can also supply power to the car when you change the battery to avoid the vehicle control module data being lost, automatically locked, the key remote control fails and the fault light turns on.

GODIAG GT100+ function and operation guide
- By connecting the vehicle and diagnostic tool via OBDII, Godiag GT100+'s LED will indicate whether the OBDII diagnostic interface has a good communication with the car.
- Monitor the voltage of vehicle OBDII interface and display it in real time. If it is less than 11V, please stop the diagnosis and programming to avoid the vehicle being unable to start/data loss/module locked.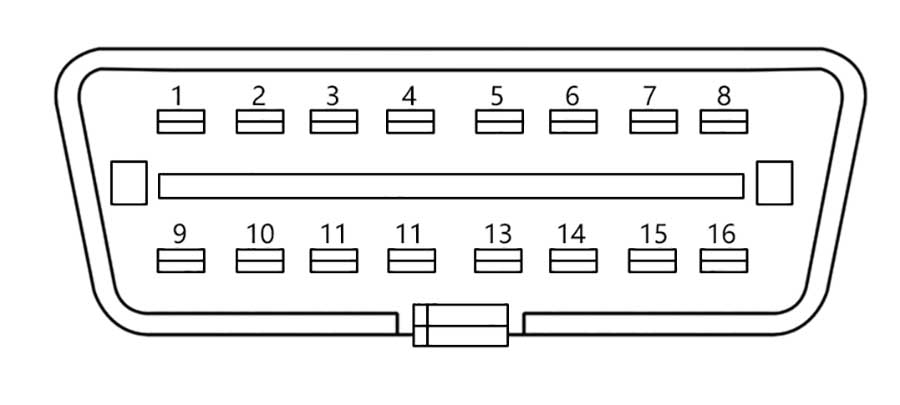 Indicator Meaning:
1. Manufacturer custom
2. SJE1850 wire
3. Manufacturer custom
4. Power grounding
5. Signal grounding
6. SAEJ2284《CAN》high
7. ISO9141-2&iso, DIS4230-4K wire
8. Manufacturer custom
9. Manufacturer custom
10. SJE1850 wire《bus->
11. Manufacturer custom
12. Manufacturer custom
13. Manufacturer custom
14. SAEJ2284《CAN》low
15. ISO9141-2 & ISO/DIS 4230-4L wire
16. Car battery positive
1.) Used to check whether the diagnostic / programming / coding tool can send communication signals.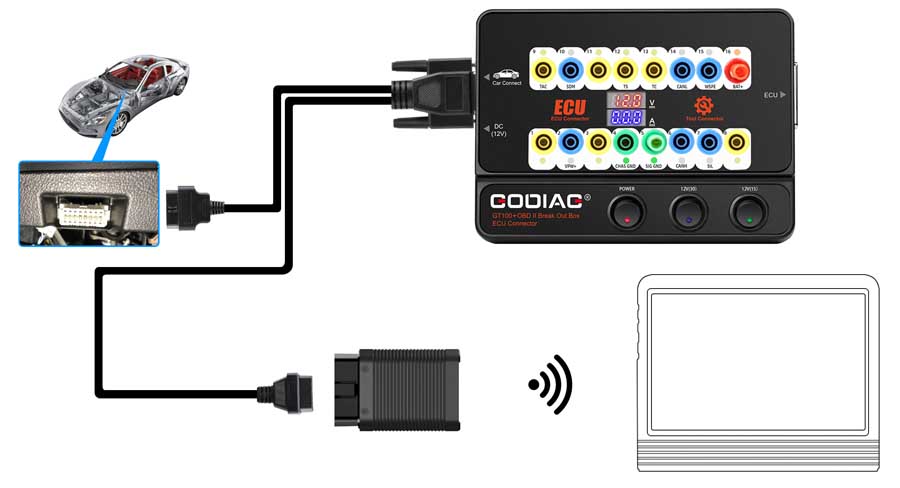 2.) ECU connection: single module connection
GODIAG GT100+, connected to a single ECU module, is convenient for a user to do the single-module diagnosis and programming.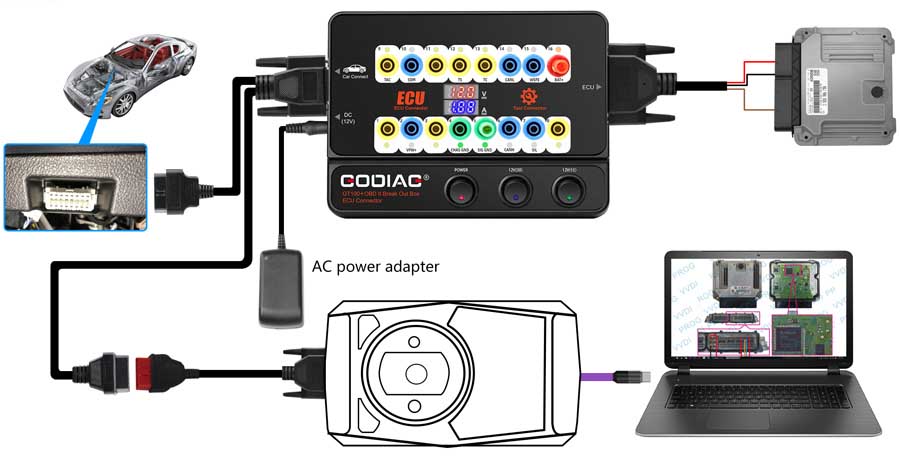 3.) GT100+ program key for VW, Porsche, Mitsubishi etc with all keys lost - activate the instrument or immobilizer module.
A. To program VW 4th generation / 5th generation Lost all keys (for example: new A6L Touareg A4 Q5 A7), please use GT100+ to short-circuit banana connector PIN 16----PIN 1 to lit up the dashboard, aft that use the key programmer tool to connect with the female adapter of GT100+ for data collection. Some vehicle dashboards won't be lit up, but data can also be collected, for example: A6L Q7.
B. To replace the engine ECU of Toyota or to use some key programmer to program Toyota when all keys lost, it needs to short-circuit PIN13-PIN4
C. To program Mitsubishi key with all keys lost or to set OBDII when all remote key lost, please short-circuit PIN1-PIN4.
D. To program Porsche Cayenne key with all keys lost or with all remote key lost, please short circuit PIN3-PIN7.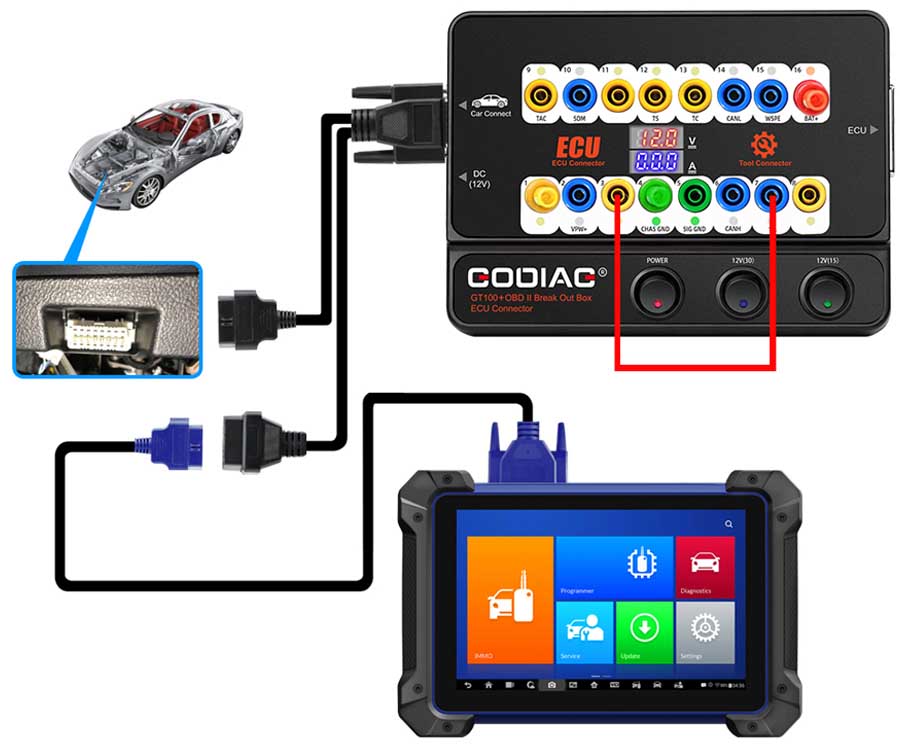 4.) Voltage and Current Value Display function
On bench connect the ECU module by using the banana connector or db25 dedicated ECU interface, and Godiag GT100+ will display the voltage / current value.
The user can intuitively see the current status of the ECU. There is no current display or The actual displayed current is inconsistent with the engineer's expected current, then you can immediately check whether the wiring is wrong, if the wiring is correct, he can judge that the ECU may be broken, so there is no need to perform diagnostic communication and can directly repair the ECU.
If it shows too much current, then you can also determine if the cable is wrongly connected or the ECU is broken.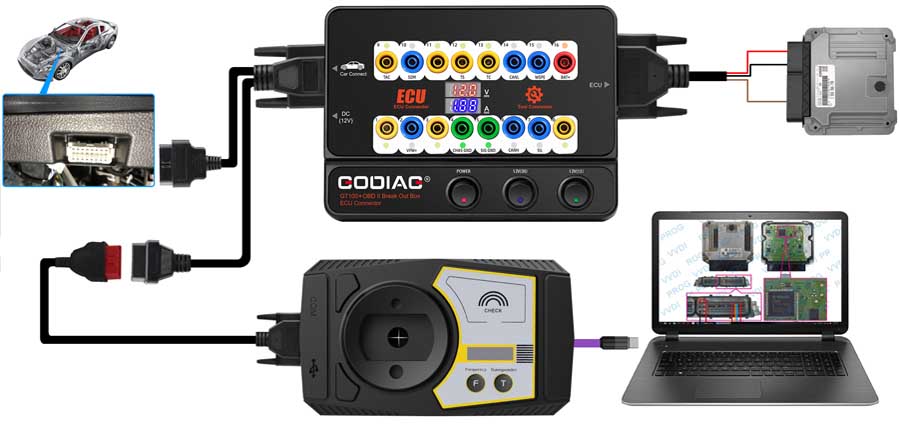 5.) GT100+ Pin 1, 9, 3, 11 12, 13, 8 [corresponding to the yellow banana connector on the machine], these non-standard obd2 protocol interface may display CAN BUS or K-Line communication protocol. GT100+ can only display K- Line Pwm Vpw+ KWP 2000 protocol. GT100+ will display CANBUS K-Line Pwm Vpw+ KWP 2000 protocol communication.
6.) Quickly communicate with a single ECU on bench by connecting with the ECU diagnostic / programming tool. [Which allow the engineers or technicians to complete the job on bench, also keep away the risk of data loss in other modules when directly testing on the vehicle.]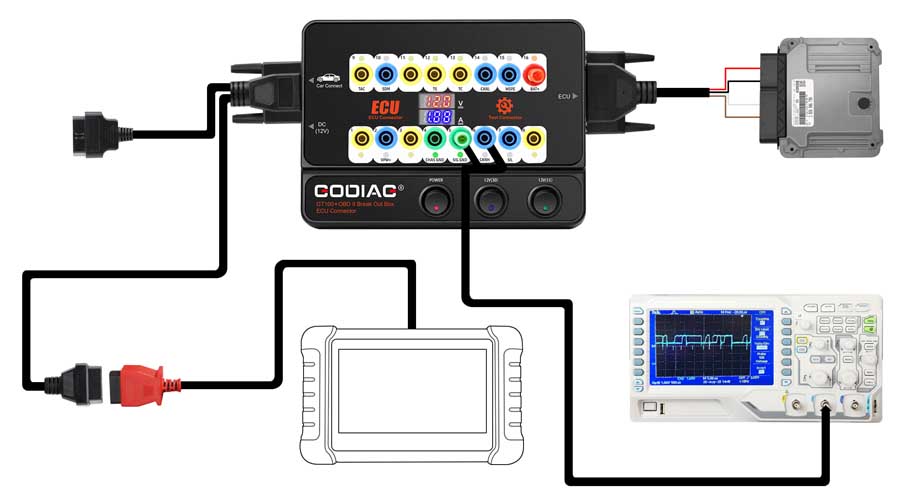 7.)Multiple vehicle ECU module connecting. [It's aimed at solving the problem of engineers and technicians who need to connect multiple ECU during programming a module, such as connecting to multiple ECU modules for key programming]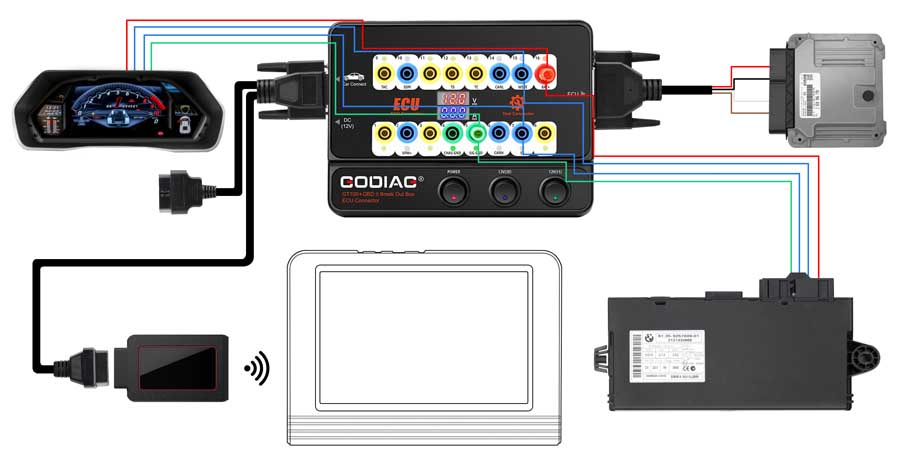 8.)Replace the auxiliary power supply for the battery - uninterruptible power supply connecting mode. [Since there's failure or missing antitheft remote control data of some vehicles when the battery is dismantled, the auxiliary power supply aims at supplying power to the vehicle through GT100+ before replacing the battery to sustain the power supply to the vehicle. It guarantees the vehicle ECU is power connected during replacement of the battery.]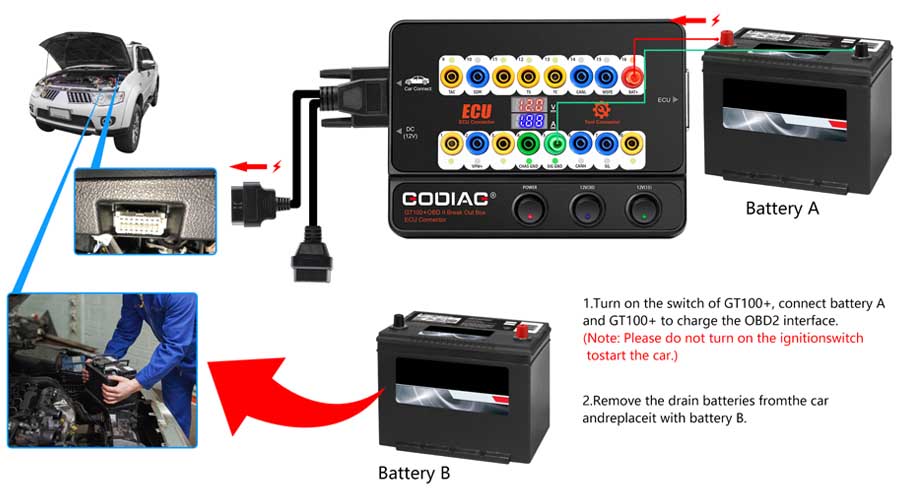 9.) The OBD2 cable of GT100+ is as long as 1.4 meters, which will solve the problem that the diagnostic tool cable is not long enough or the vehicle diagnostic port is too narrow to connect. Please connect GT100+ first, turn on the power switch and you will see the voltage on the screen which can tell whether the power supply of the vehicle is normal. [Which keep away the risk of burning out the diagnostic & programming tool due to the modified vehicle OBD2 port]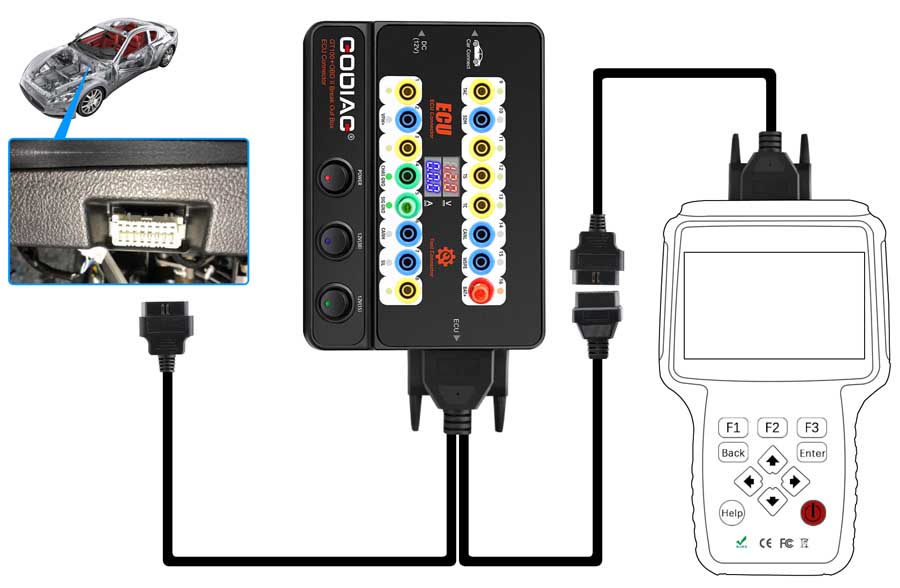 10.) For old OBD1 vehicles or special diagnostic port, please connect GT100+ through the banana plug and DB25 jumper. The OBD1 diagnostic port or special diagnostic port can be transferred to the standard OBD2 diagnostic port.
11.) GT100+ will convert the OBD1 port of special truck to the standard OBD2 diagnostic port according to the protocol.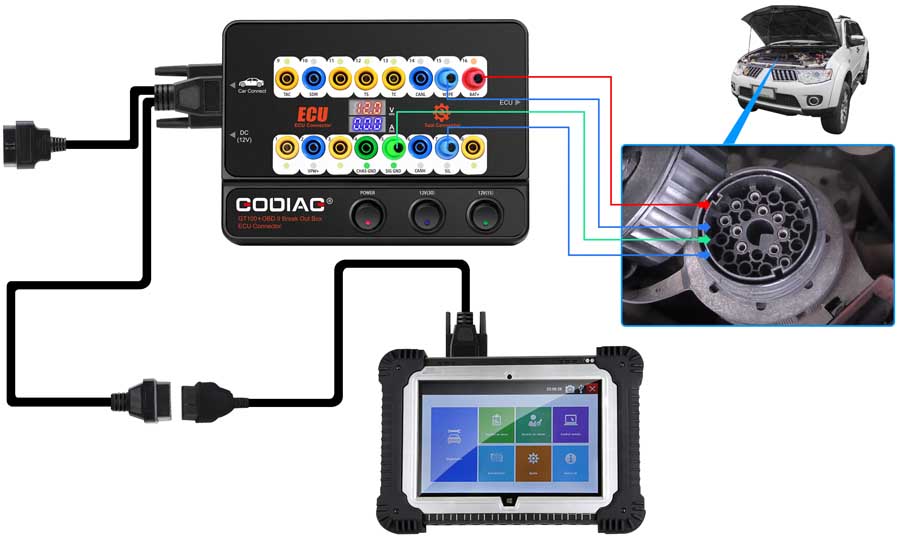 12.) For BMW-CAS4/CAS4+Programming Test Platform, it's used to test whether the programmed key works with CAS4 normally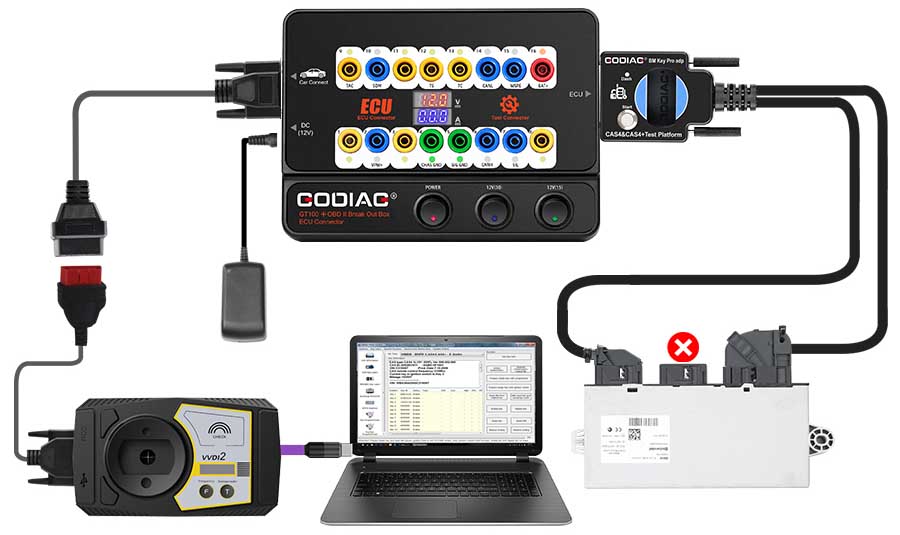 13.) For BMW FEM/BDC Programming Test Platform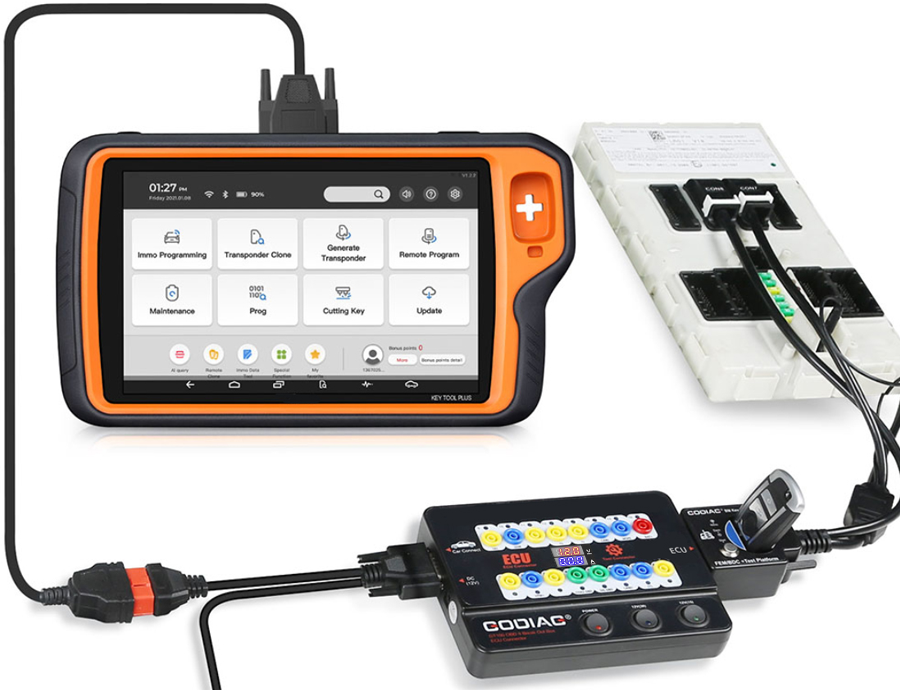 14.) More connectors and dedicated modules are under development, please wait...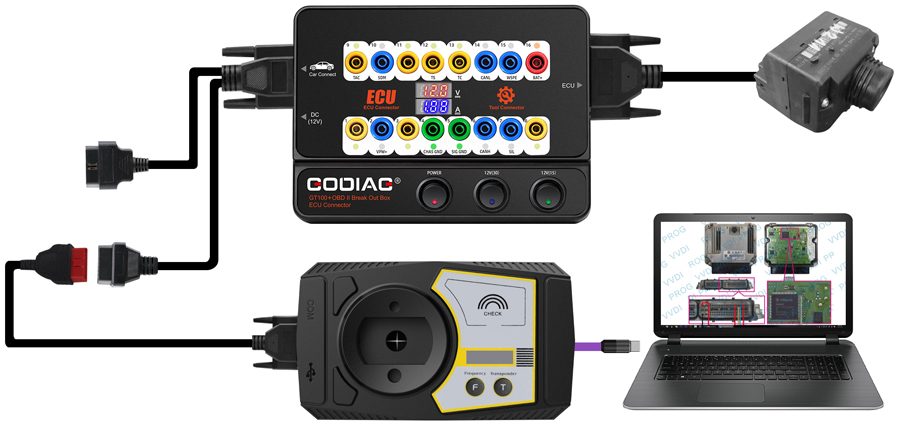 Hardware Connection Diagram: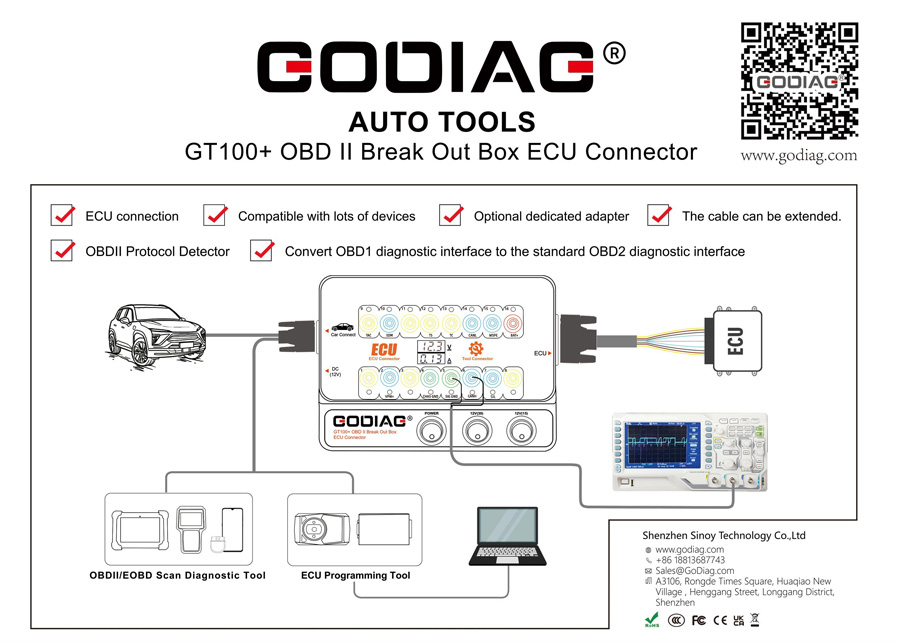 | | |
| --- | --- |
| Item | Specification |
| Diagnostic port | OBDII |
| Working voltage | DC 9V-24V |
| Work and power | 0.5-0.6W |
| Adapter power | Input AC100v-240v, Output DC12V 1A |
| Operating temperature range | -20 to 70 °C ( -4 to 158 °F ) |
| Storage temperature range | -40 to 85 °C ( -40 to 185 °F ) |
| Dimension | L: 23cm, W:18cm, H:7cm |
Guarantee: One year warranty.
Package includes:
1pc x Host
1pc xOBD 2-in-1 extension cable
1pc xColored jumper cable
1pc xPower supply 12V
1pc xResistance 120 ohm
6pcs xBanana plug
24pcs xWire accessories, Dupont 2.54mm connector female pins
---
Shipment Option and Delivery Time In OBDiitool.co.uk

1. Shipment from Shenzhen/ Hongkong warehouse

1)DHL Shipping and Other Express Service:
Take About 5-7 working days
DHL will be the default delivery method
To help you clearance we will declare a lower price on the invoice to help clearance.
If address is remote area, you need pay remote freight 35 USD or we will ship by Normal Post or Yanwen/EMS/Aramex Express.
For some eu countries, there might be customs duty problem, if you have any special rquest on this, you can email to inform us your suggestions.
2)Yanwen Express:
Take About 7-10 working days,No Tax Problem
Usually No Tax for European Countries or Remote Area . The tax was pre-paid, when package reached, there's no tax no extra fee for customers.
Due to high custom tax in European Countries,Like Germany, Greece,Romania,Sweden,France,etc, we will use Yanwen express as first option, if you will need faster DHL shipment, please contact us ,thank you.
3)Normal Registered Airmail Post way
Take About 10-16 working days, Sometimes will be 20 days.
Registered Airmail Includes Netherlands Post, USPS Post, Singapore Post, Hongkong Post, etc
Order amount less than 150USD, and package weight less than 2KG will be sent by Registered airmail.
But if you feel it is really slow, and want us to send by DHL, you can choose "Premium Delivery" and pay for the extra shipping for express service. finally we will send it by DHL.
2. UK, EU Warehouse Shipping:
UK Customers Check: Ship from UK
EU Customers Check: Ship from Czech, it's ok to ship to all the EU countries.
Take About 3-7 working days, Free TAX, faster shipping with cheaper price.
If US/UK Stock was sold out, your order will be shipped from China via DHL or YANWEN(No Tax).
Because of the UK Brexit and Pandemic, UK warehouse can't ship to other EU countries at present.
EU Warehouse was located in Germany/Czech and it only can ship to EU country:
Germany, France, Spain, Netherlands, Finland, Sweden, Austria, Belgium, Bulgaria, Croatia,
Czech Republic, Denmark, Estonia, Greece, Hungary, Ireland, Latvia, Lithuania,Luxembourg,
Malta, Poland, Portugal, Republic of Cyprus, Romania, Slovakia, Slovenia,5-7 DaysRoyal Mail/ DHL
After-sale service:
We can offer you lifetime customer service and tech support.
If you have any problems, please provide error image or video to show the problem, and kindly describe it in detail;
Technician will try their best to help you solve the problem. If there are no solutions, you can return for a refund or get a new one for replacement.
For any question, please contact us at:
Whatsapp:+86 18054815707
Email: Sales@OBDIItool.co.uk
Skype: Sales@OBDIItool.co.uk
Hot line: +86 18054815707
Accepting bulk purchases, We can Offer you wholesale price
We are the agent for many original brand such as Autel, Xhorse, OBDstar, VXdiag, XTOOL,Launch,CGDI, Yanhua ect.
OBDiitool.co.uk OBDII tool online supplier
Accepting bulk purchases, We can Offer you wholesale price.
OBDiitool.co.uk is a OBDII tool online supplier providing best-quality ECU chip uning tools, car diagnostic tools, OBDII Code scanners, car key programmers, heavy duty scanners, locksmith tools etc.
Besides, we are the agent for many original brand such as Autel, Xhorse, OBDstar, VXdiag, XTOOL,Launch,CGDI, Yanhua ect.